Promotional Offer for Prague Apartments
Your Apartments offers currently more than 250+ apartments for short term rent in the center of Prague. There are regular discounted prices up to 55% from the original total price. Now, we offer you additional discount if you apply our promotional code.
See also:
Prague apartments Prague business apartments Prague Wenceslas Square Apartments Prague Old Town Square Apartments Prague Charles Bridge Apartments Prague Rental Apartments to book online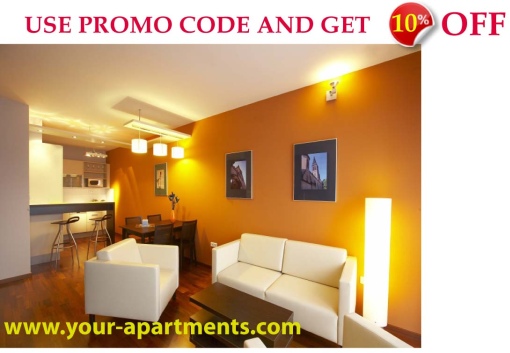 HOW?
Please select destination of Prague, Czech Republic in the orange box on the left. Choose your Arrival date, Departure date, number of persons and number of bedrooms. Afterwards, just click on the Search button in our Apartment Search box on the left. You will see the list of available apartments. Choose the one which the most fullfils your expactations and click on Details and Booking. Scroll down the chosen apartment detail page and type your Promo code to the section Price for accommodation. Your total price will be automatically recalculated and your discount code will be applied.
WHEN?
Start date: February 13, 2011
Finish date: March 31, 2011
PROMO CODE (for this period):
DP10-XUG
If you want to keep in touch and to know all our Special offer discounts, please click on Like button in our cool Facebook pages called Your Apartments, it means www.facebook.com/YourApartments and become our fan.