Cesky Krumlov apartments for rent
Apartments in Cesky Krumlov for short term rent represent
the best possible price for the apartments
20+ apartments ready for online booking in Cesky Krumlov
hundreds of satisfied clients each month
online booking and secured payment
All the apartments are located in walking distance from the city centre. Cesky Krumlov is a beautiful historical city which is included in UNESCO sightseeings list. The history of Cesky Krumlov is spectacular.
Why to order apartment from Your Apartments Cesky Krumlov?
Your Apartments is the leading company in short term apartment rentals in Cesky Krumlov. Our Cesky Krumlov apartments are cheaper than hotels. The apartments are much bigger than Cesky Krumlov hotel rooms. Kitchen in our Cesky Krumlov apartments is always available. Most of Cesky Krumlov apartments are equipped with modern amenities, such as TV, satellite, Internet, kettle and much more. The Apartments are presented with photos, floor plans, detailed description, amenities, prices, availability.
The key benefits of Your Apartments Cesky Krumlov
We want to make you feel like at home when you arrive to our Cesky Krumlov apartments. Most of apartments we offer are spacious and airy, boasting natural light, while some of the selected apartments have simply stunning views of the rooftops of the city plus the many spires and onion domes that surround the majestic Cesky Krumlov Castle. The apartments are located in the historical center of Cesky Krumlov in neighborhoods rich in galleries, museums, green parks and sights as well as shopping, entertainment, and the best bars and restaurants the city has to offer.
Types of Your Apartments Cesky Krumlov
You can find in our offer studio apartments, one bedroom apartments, two bedroom apartments, three bedroom apartments, four bedroom and even five bedroom apartments which is perfect for a Cesky Krumlov holiday with your friends or family. Some bedrooms are especially designed for families travelling with children in which you can get a baby cot.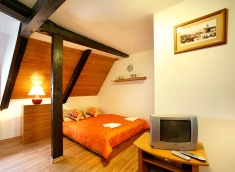 Cesky Krumlov apartments in Siroka street
Large apartments situated in the historical building, only 100 metres from old town square. Ideal for groups of friends or families, there are 2 bedrooms available + with kitchenette + bathroom + toilette. There is WiFi Internet and parking included in total price for accommodation. It is possible to keep your bikes in a storage room of neighbouring house.
2 bedroom apartments, 6 persons
---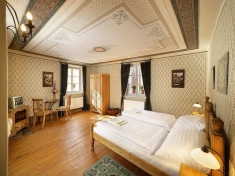 Cesky Krumlov apartments Latran
Luxury apartments in Old Town in Latran, near Cesky Krumlov Castle. The house, in which the apartments are situated, was made in Gothic times. It was reconstructed during Renaissance times, just look at evidence of the attic fragments and sgraffito decorations. Each apartment has its own bathroom, TV and two bedrooms.
2 bedroom apartment, 4 persons
---
If you are interested in short-term accommodation with Your Apartments, Ltd., please do not hesitate to book it online or contact us.