History of Cesky Krumlov
Český Krumlov is one of the most beautiful Czech cities full of history and romance. The name of Český Krumlov has an origin in German Krumme Aue (that means crooked meadows) and comes from curved river bank of the city.
The castle of Český Krumlov was settled in 1253 by the House of Rosenberg as a gothic castle built in the strategic trade route to Austrian town Linz. The Český Krumlov castle and the courtyard were expanding continously and today are known as a part called Latran. In the same time on the other bank of the river grew up the other part of town (today known as Old Town). During the 300 years of reign of the House od Rosenberg Český Krumlov became also administrative centre of a large area covering most of southern Bohemia. The city grew economically thanks to silver mining. The Český Krumlov history is really amazing. In 1492 Český Krumlov was promoted to royal town and the castle was reconstructed to comfortable seat.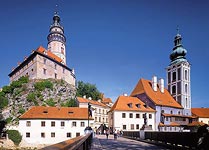 In 1602 the castle and town were sold to the king Rudolph II. (due to financial problems of Petr Vok who transferred his residence to Třeboň). In 1662 Ferdinand II. (Holy Roman Emperor) as the successor of Rudoplh II. gave to Český Krumlov the House of Eggenberg. During the reign of Jan Kristian in 1680 - 1682 who adored art, ballet, theatre and entertainement, baroque-style building of theatre was built up. After Eggenbergs died, Český Krumlov was maintained by House of Schwarzenbergs till 1947, when the castle was took over by state.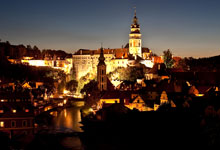 After Velvet Revolution in 1989 Český Krumlov became one of the most interesting touristic centers in the Czech Republic. From 1992 Český Krumlov belongs to UNESCO list of World Heritage sites.
The historical centre is full of well-preserved renaissance-style houses. The city center is inhabited by common people and that gives the city special atmosphere.