Prague Charles Bridge Apartments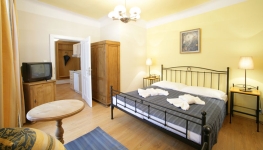 Charles Bridge is the oldest bridge across the Vltava River in Prague and the second oldest bridge in Czech Republic. Original Judith Bridge was pulled down during the spring melting of ice in 1342. In 1357 construction of new bridge began. Till 19th century the bridge had called Stone or Prague Bridge then it was named after its founder and Roman Emperor Charles IV. Charles IV. commissioned the construction of Charles Bridge Peter Parler, the builder of St. Vitus Cathedral at Prague Castle. Thanks to Charles Bridge Prague has also become a major intersection of European merchant roads.
See also:
Prague apartments Prague business apartments Prague Wenceslas Square Apartments Prague Old Town Square Apartments Promotional Offer for Prague Apartments Prague Rental Apartments to book online
Prague Charles Bridge Apartments are very popular due to their location in the city center. In close proximity there are all tourist attractions. In summer you can even rent a boat and go on the Vltava River from Manes to the Charles Bridge.
Here is the list of Prague Charles Bridge Apartments:
Charles Bridge is also decorated with 30 statues mostly Baroque style, the best known and oldest statue of the martyr John of Nepomuk is from the 17th century, who was thrown by King Wenceslas IV. into the Vltava River.
The bridge is bordered on both sides of the two towers, the Old Town Tower and Lesser Town Tower. The royal road went through them and led from the Powder Tower, across the Charles Bridge to Prague Castle.