Prague Wenceslas Square Apartments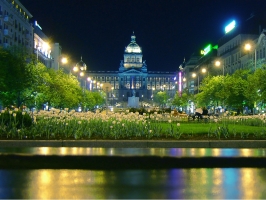 Wenceslas Square or so called Václavské náměstí in Czech is firstly, a great place for going shopping, secondly, a place for meeting friends and thirdly, a space just for hanging out. It is in fact one of Praguers' favorite meeting places ("at the Horse's tail") and a perfect spot to start your tour around the capital. Wenceslas Square is located in the heart of the Prague New Town. Wenceslas Square was founded during the reign of the Emperor Charles IV. It was earlier known as a Horse Market after that was renamed to honour of one of the patrons of Bohemia by St. Wenceslas. Nowadays it's one of the most visited places in Prague. Due to its unusual shape (750 m long and 60 m wide) it is compared with mini Champs- Elysées boulevard in Paris. Wenceslas Square boulevard is lined by various luxurious shops, restaurants, lively pubs, cafés and cinemas. It's also the ideal place for those who want to know the beauty of evening Prague.
See also:
Prague apartments Prague business apartments Prague Old Town Square Apartments Promotional Offer for Prague Apartments Prague Charles Bridge Apartments Prague Rental Apartments to book online
Prague Wenceslas Square Apartments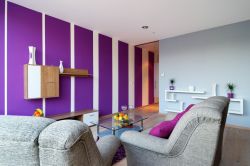 are suitable for groups or large families. They are situated in the historical buildings just a few steps from statue of St. Wenceslas and due to their location in the city center you can reach all interesting and famous places by foot.
Are you looking for an apartment on Prague Wenceslas Square ? We offer a wide range of the apartments of various categories. You can book a studio Wenceslas Square, fully furnished apartments with one, two, three or even four bedroom apartments.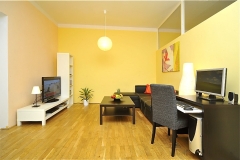 If you want to spend perfect time during your vacation in Prague feel free to book the appropriate Vacation Apartment Wenceslas Square with 3 bedrooms, 1 living room, a kitchen and bathroom with the total capacity up to 10 guests.
We offer even the apartments with 2 bathrooms. All the apartments have fully furnished kitchenette. The most of them are furnished with dishwasher, washing machine, dining table, chairs, double and single beds. You can find here the amenities like DVD player, HiFi, satellite TV, WiFi Internet connection is for free of charge. If you book the apartment via Your-Apartments.com, you can buy at the reception voucher for breakfast with 30% discount.
Here is the following list of Prague Wenceslas Square Apartments:
If you arrive to Prague please do not miss your visit of Wenceslas Square. At the upper end of the boulevard is dominating National museum building and statue of St. Wenceslas on the horse which is the most popular meeting point for tourists and locals as well. On the right side from the top you can find famous Lucerna Palace and Rokoko theatre.